ACTION
---
1. Unconditional abolishment of  cash money
.
Implicit abolition of coins and banknotes;
.
2. Unconditional application of digital money
.
Exclusive and mandatory use of credit cards and internet banking;
.
Individual identification and controlled management of digital money;
.
Guaranteed application and absolute prevention of internet- and bank money fraud;
.
---
---

REACTION
---
1. Closing system control of all expenditure incurred by each identity
.
Automatic display of an exact listing of all payments per individual;
.
The systematic identification of any digital payment tool and the registration of  any spending of each individual (private consumers, associations, the self-employed individuals, liberal professions, companies, State institutions, King House);
.
2. Closing system control of all income of each identity
.
An accurate display of all individual earnings is consistently guaranteed by a simple and correct registration of all payments;
.
3. Integral suppression of every financial, fiscal and social fraud
.
Waterproof method for any financial, fiscal and social falsification;
.
.
Protection from any arbitrariness, self-interest and profiteering of any individual;
.
.
No capital will escape from a fair solidarity contribution and distribution of the fundamental expenditure of each Governmental management;
.
4. Proportionate, fair and sound dispersion of the carrying capacity of the governmental burdens on basis of effective realized income
.
The systematic enrolment of all payments makes every individual income automatically transparent. Consequently indispensable Governmental expenditure  can be divided in a fair and equitable proportion;  
.
A simple and equitable taxation can be realized, by which a uniform and objective  taxable base is  composed by the recorded earnings minus a conscious constructed percentage of the registered expenditures. A transparent and equitable progressive tax can be applied on this fair and justified taxable base;
.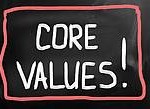 Through a uniform and equitable settlement of all recorded payments on all outlined earnings, average taxation can be reduced substantially, average purchasing power will increase consequently and  spending's basically will be encouraged;
.