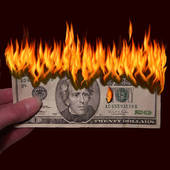 We, three retired friends, are brainstorming for many years about the ups and downs of the future world. We are convinced that the last fifty years of the existence of Europe, on an average scale, were the most beautiful of the global world.  At the same time we are persuaded, that if nothing changes structurally the future of our children/grandchildren will be at least less comfortable. We are also convinced that our present standard of living and comfy future only can be safeguarded through  a transparent, waterproof and fair methodology, by which any financial abuse at each level in every relation will be excluded. This can only be realized through a systematic enrolment of all payments, automatically resulting that every income will be subject to a proportionate and fair dispersion of the indispensable Governmental expenditures.
Our proposal is as follows. Any financial, fiscal and social fraud will be prevented through implicit abolishment of cash money and exclusive use of digital money. A waterproof methodology of control will be generated. Through the registration of expenditures, all income will be recorded. The equivalent of fraud money automatically will become official. Each income will be subject to a transparent, proportional and fair social and fiscal taxation. Consequently average taxation will be lower and  average purchasing power will be higher. Spending's fundamentally will be encouraged and the economic crisis can be attacked structurally.
The only plausible solution to kill the crisis and allows everyone to benefit from, can be found in the following website: www.finalcrisiskiller.eu!